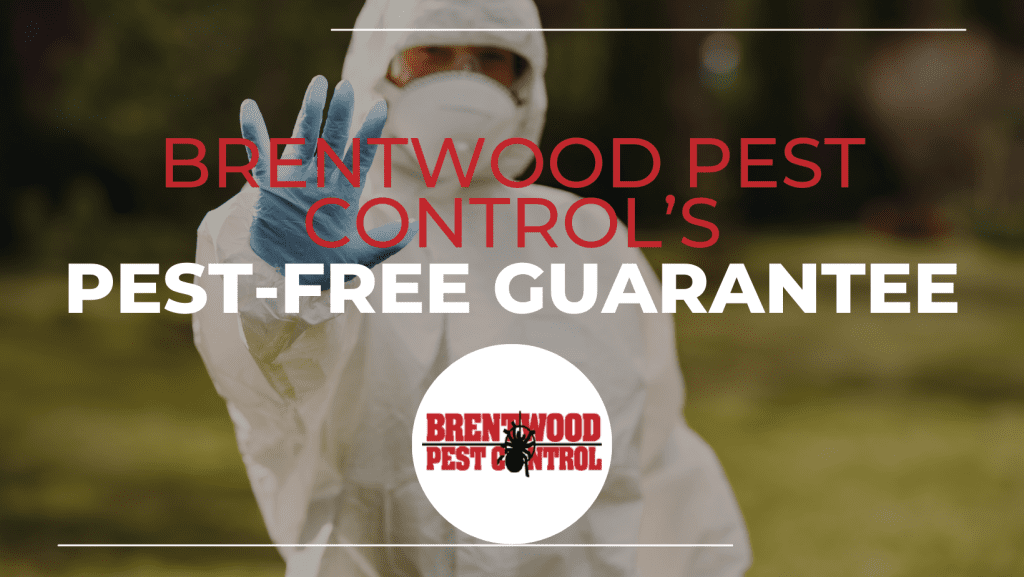 Regarding pest control, we understand homeowners in Brentwood, TN, want more than just a temporary fix. They want lasting peace of mind, knowing their homes are safeguarded against unwanted intruders. That's why, at Brentwood Pest Control, we're proud to offer our Pest-Free Guarantee – a promise that sets us apart in the world of pest control.
Our Pest-Free Guarantee: What Does It Mean?
Our Pest-Free Guarantee isn't just a catchphrase; it's a commitment we take seriously. It's our way of assuring our valued clients that when they choose Brentwood Pest Control, they're choosing a pest control partner dedicated to delivering effective, long-term solutions.
The Brentwood Pest Control Difference: Why Our Guarantee Matters
So, what makes our Pest-Free Guarantee stand out? Here's a closer look at what it means and why it matters:
Comprehensive Inspections and Treatments: Our process begins with a thorough inspection of your property. We leave no stone unturned, checking every nook and cranny where pests might hide. This meticulous approach allows us to identify and address existing pest issues comprehensively.
Tailored Solutions for Your Home: No two homes are exactly alike, and chances are that your specific treatment needs will differ from those of your neighbors. By carefully inspecting your home and taking your family's unique lifestyle into account, we can create a customized treatment and monitoring plan that fits your needs and budget perfectly.
Eco-Friendly Pest Control: Our commitment to the environment is a cornerstone of our Pest-Free Guarantee. We use eco-friendly, non-toxic treatments that are safe for your family, pets, and the planet. These sustainable solutions not only protect your home but also contribute to the long-term health of our community.
Proven and Guaranteed 3-Step Process: Our Pest-Free Guarantee is backed by our proven 3-step process: Assessment, Treatment, and Monitoring and Prevention.
– Assessment: We start by identifying conditions that encourage pest infestations. This includes pinpointing potential entry points, sources of attraction, and pest breeding grounds.
– Treatment: Once we understand the problem, we strategically eliminate it at its source. We apply treatments both inside and outside your home, targeting the specific pests that are causing problems.
– Monitoring & Prevention: We don't stop at treatment. We consistently monitor the protective barrier we've created to help prevent future pest entry, adjusting to the changing seasons.
5. Our Commitment to Your Satisfaction: We're not satisfied until you are. Our Pest-Free Guarantee includes ongoing support and reevaluations. If pests return between scheduled visits, we return, free of charge, to address the issue. Your satisfaction is our top priority.
Experience Pest-Free Living with Brentwood Pest Control
When you choose Brentwood Pest Control, you're choosing more than just a pest control service; you're choosing a partner in safeguarding your home and family. Our Pest-Free Guarantee is a testament to our dedication to providing effective, eco-friendly, and customized pest control solutions.
To learn more about how our Pest-Free Guarantee works and how we can keep your home critter-free, visit our website for comprehensive resources and information. For immediate support or to schedule a consultation, call Brentwood Pest Control at (615) 417-1243,  contact us on our website, or email Paul Nordstrom, our founder. Our team is here to ensure that your home remains a haven of peace and comfort, free from pests' disruptions and health risks.